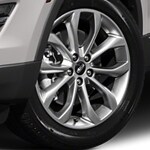 When one of your primary tires goes bad, you must replace it before you can drive again. Most new cars today come with what is called a compact spare or doughnut tire. However, others come with a full-size spare tire. To know which one that your car comes with, you need to know the difference between the two. You can then better understand how to use the tire with which your vehicle is equipped.
A compact spare tire is typically smaller and harder than a full-size replacement tire. The doughnut fits completely on your wheel. However, it is not ideally suited for long distance driving and should only be used for up to 50 miles.
A full-size replacement tire is the same size and dimensions as your regular tires. You can leave it on until your damaged tire is fixed. You can also replace your primary tire with it and buy a new spare.