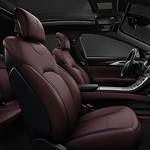 One of the most popular mid-size luxury sedans is the Lincoln MKZ. That's because the MKZ is one of the only luxury sedans that offer a combination of power, luxury and advanced performance. Here are some of the top performance features now available on the MKZ.
The MKZ is one of the few luxury vehicles that offer an advanced Active Noise Control system. This system utilizes a set of microphones to monitor the cabin for unwanted noise. The system then cancels out the intrusive noise to create one of the quietest rides in its class. The MKZ also offers an Active Suspension system that monitors the road in front of you to make any quick adjustments. The result? The MKZ delivers performance without having to compromise ride quality.
Discover all the amazing performance features of the Lincoln MKZ. Take a test drive today at Johnson Sewell Lincoln in MarbleFalls, TX. We're looking forward to showing you everything that the MKZ has to offer.